BUILDING FOR GROWTH
Installation of structural steel has commenced onsite as part of the $3.4 million expansion to the Forbes-based Central West Livestock Exchange (CWLE).
Awarded the construction package by Forbes Shire Council; Akura's scope of works includes a 5,000sqm extension to the existing saleyard cover, inclusive of an overhead sprayer system. Once complete, the extension will boast approximately 90 tonnes of structural steel – all fabricated within Akura's state-of-the-art facilities in Bathurst, NSW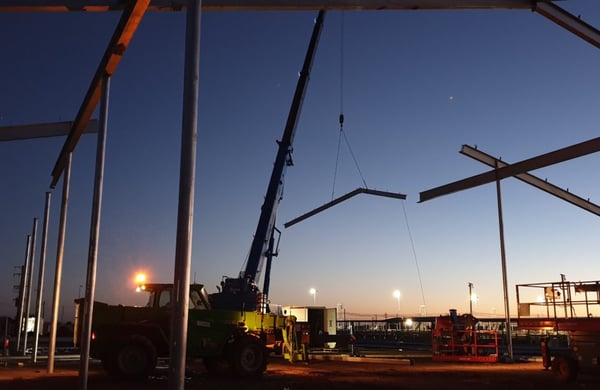 Akura has been part of the rural NSW business community for over 40 years and continues to participate in the region's growth through the delivery of engineered building solutions for agricultural, industrial and commercial applications.
Following Deputy Prime Minister Michael McCormack's recent launch of the 2018-2030 Agriculture Strategy, we value the opportunity to work with Forbes Shire Council to deliver the extension project which is set to improve the efficiency and profitability of the CWLE.
Having completed 95% of the piering and with installation of structural steel scheduled to be finished within the next few weeks; the Akura team has made a cracking start following a few minor set-backs on site.
Once the erection of structural steel is complete, the team will move onto the box gutters for the siphonic system, which will be followed by roofing and installation of the overhead sprayer system.
The expansion project is a classic example of our ability to deliver customised engineered structural building packages – fast.
Our expertise in steel and panel construction, along with our focus on streamlined construction processes led to the creation of U-Select™; providing clients with simple, flexible and tailored building packages that are designed for rapid delivery and construction.
Akura's in-house panel and steel manufacturing facilities, expert staff and fleet of machinery and equipment means we have the flexibility to offer short lead times, fast construction, customised designs and architectural features for a completely tailored result.
The beauty of the U-Select System is that our clients can ultimately select the building package and customise with optional extras and architecturally designed features specific to the requirements of their project.