Precast concrete panels have emerged as a popular building material and are used in the construction of a wide variety of commercial, industrial, residential, landscaping and civil projects; largely due to the material's high quality, ease of installation and cost-effectiveness.

BENEFITS OF USING PRECAST CONCRETE PANELS IN CONSTRUCTION:
Low Maintenance - The low maintenance nature of the material means that no regular painting or protection treatments are required in order to maintain its aesthetic and functional appearance.
Secure - Concrete is a secure material that is resistant to impact and weather elements as well as possessing a higher tolerance to fire, flood and burglary; regularly leading to lower insurance premiums on buildings.
Pleasing return on investment - Investors and owner-occupiers can expect a faster return on investment given the nature of precast construction. Shorter build times means that occupation/sale of the building can occur sooner than many other building types.
Superior Performance - There are thermal mass and acoustic performance benefits that can be achieved with precast buildings; where they can play a significant role in reducing heating and cooling costs along with noise disturbance.
Architecturally Designed Features - The architecturally designed features and finishes that can be applied to precast concrete panels are limited only by the imagination. Woodgrain, polished and exposed aggregates are just some of the many finishes available to add an aesthetic appeal to any building. Cast-in signage, in-lay designs along with tinting and colouring also provide the opportunity for a unique result.
THE PROCESS
Typically, there are two manufacturing methods for concrete panelling; precast and tilt-up.
The choice of which panel manufacturing process is used comes down to site access, availability of local precasting facilities and the standard of finishes and designs desired.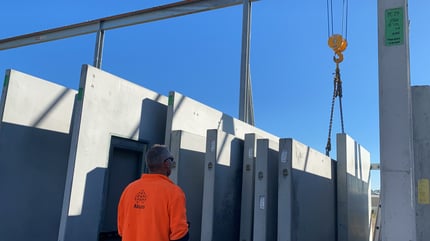 PRECAST PANEL MANUFACTURING
Off-site precasting is poured in a factory situation and is transported to the site once ready to be installed. By precasting offsite, the concrete can be prepared and set in a controlled environment away from weather-related variables that could cause inaccuracies and disrupt quality finishes. For instance, Akura's precast factory has been designed to provide a controlled environment optimal for reduced curing times and advanced mix ratios that achieve superior strength to withstand transport and erection loads.
Off-site precast panelling also allows for more accurate positioning of inserts, insulation, openings and services due to the use of a high-quality framework that cannot be used in tilt-up manufacturing. Furthermore, precast panels allow for the integration of architecturally designed features such as wood grain, polished and exposed aggregate finishes for a unique and aesthetically pleasing result.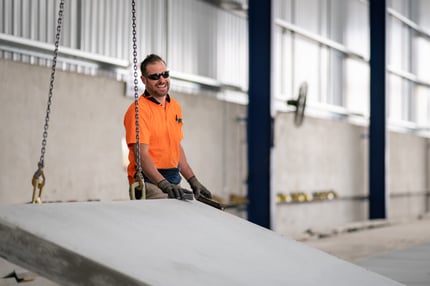 TILT-UP PANEL MANUFACTURING
On-site tilt-up panel manufacturing is a time and space consuming practice that can impact the quality assurance of the final product. But it can be beneficial on small, hard to access sites that precast concrete panels would not be able to be transported into. Tilt-up panel manufacturing can restrict other work on-site given the panels take up so much site space and can result in extra joins due to the walls being bigger than the ground available.
Weather can have a major impact on tilt-up production with unfavourable weather spoiling the panels and delaying construction further. Combine this with the longer curing times as a result of the uncontrolled environment and the risk of waste, cost and potential delay are clear.
For more information on our ability to supply and install high quality precast concrete panelling for your industrial or commercial project, contact the friendly Akura team.