SUPPORTING AUSSIE TRADIES' HEALTH AND WELLBEING
Tradies National Health Month raises awareness of the health and injury risks affecting those who work in trade occupations—among tradies themselves, their families, employers and the wider community. With statistics showing almost 3 in 5 serious workplace injuries involve a tradie—despite making up only 35 per cent of the workforce—tradies' health must be everyone's priority.
At Akura, we care deeply about the health, safety and wellbeing of our people and are committed to providing training and education that will build on the resilience, mental and physical health of the Akura team. Last week we held a workshop with Pip Seldon, founder of The Healthy Tradie Project.
During the training session we learnt how the best physical, mental and emotional health starts with solid foundations combining movement, mindfulness and nutrition.
Our safety motto at Akura: Safely Home - Everyone, every day.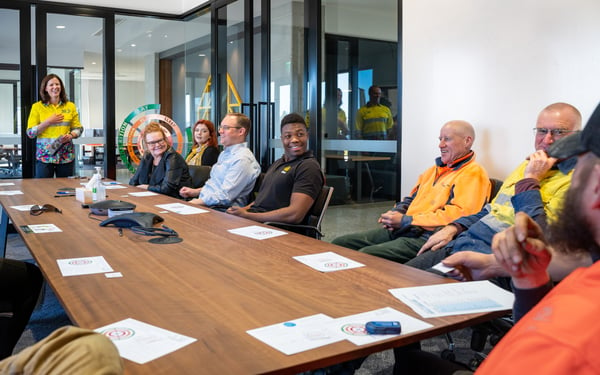 WHY TRADIES?
The construction industry can be stressful, often long working hours and constant pressure to provide quality outcomes to tight programs. Pip's journey began in 2009 after the loss of her eldest brother, a carpenter to suicide. Pip's mission is:
"To work with the construction industry, from Tradies to CEO's providing them with inspiration, training and support in making healthier choices when it comes to nutrition, exercise and lifestyle behaviours." Pip Seldon