Numerous elements go into ensuring the efficient and effective operation of a warehouse or distribution centre.
Fortunately there are some excellent technologies available which can make this process much easier.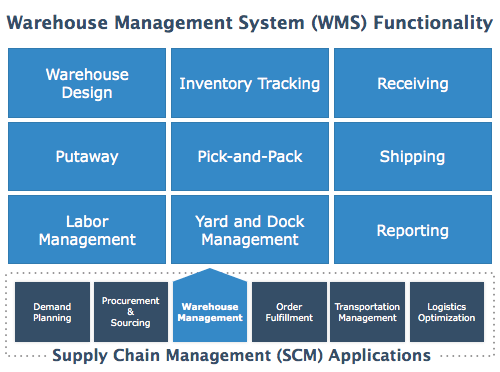 WHAT IS A WAREHOUSE MANAGEMENT SYSTEM (WMS)?
A Warehouse Management System (WMS) is a software application that supports day-to-day operations and enables the centralised management of tasks. The implementation of a WMS is crucial to modern warehouse/distribution centre management, and there are many available on the market with various features dependent on your needs.
An effective WMS will have a number of useful tools for managing orders, inventory and shipments along with organising staff.
So what are some of the things you should consider when looking for a WMS for your business operations?
Offers the functionality for your requirements
What aspects of your operations are you most focused on streamlining? It is essential that the WMS program you select will track and manage all of your resources. At a minimum it should track receiving, stock put-away, order picking, shipping, inventory audits and any item movement.
However, what if you need more insight into employee productivity? Ensure the WMS solution you choose will provide direct visibility of what tasks an employee has performed and where.
Do you operate across a number of locations? A WMS that monitors everything inside each warehouse/distribution centre is crucial in having the ability to track stock, staff and movement of materials between locations.
Ease of Use
A system is only as good as its ability to be easily utilised and implemented. When considering a WMS, ensure that it is easy to use not only for yourself but your staff. The WMS should also allow for straight-forward report generation and provide a single location for all users to access critical data.
Provides a long-term solution
The WMS program should provide long-term solutions, in terms of allowing for future growth and be adaptable to meet new requirements. It is also important to verify that it has the capability to be integrated with the majority of ERP's and is compatible with various hardware including scanners and terminals etc.
High level customer support
When considering a WMS solution, the ability to access customer support in a timely manner is crucial. Gain a thorough understanding of what level of support is provided, how often is the software updated, and are these updates and upgrades free of charge?

Functionality, flexibility, integration, scalability, ease of use, customer support and more all come into play when choosing a WMS. Identifying a suitable system will supplement a well-designed warehouse or distribution centre. With over 40 years' experience in the industry, Akura are experts in the design and construction of industrial developments which optimise layouts to create greater usable space; thus enabling you to future-proof your facilities.
For more information on warehouse design and layout optimisation, contact our friendly team.